Many people may tend to increase the number of their pets, especially those who already have a cat and adore having a pet bunny. However, before expanding a pet family, it's integral to evaluate how different pet animals may interact.
If you have a kitten in your home, you might wonder whether cats and rabbits get along well and whether it's safe to have both as pets.
This post discusses the relationship between cats and rabbits, covering their behavior, safety concerns, and tips on how to introduce them to ensure a harmonious household.
Quick Facts
Cats and rabbits can form close bonds.
It's important to introduce them slowly and supervise their interactions.
Rabbits are prey animals and become stressed feeling threatened by cats.
Cats have a natural hunting instinct and may see rabbits as prey.
Each animal may need their own separate space to prevent potential conflicts.
Both are social animals and need attention from their owners.
The cat's claws should be trimmed to prevent injuries to the rabbit.
Rabbits should have proper chewing materials to prevent dental problems. 
Some cats tolerate rabbits more easily. Observe their behavior to see if they're good companions.
Introducing them at young ages may increase the chances of forming a positive relationship.
Providing both animals with their own food/water dishes can prevent potential territorial issues.
Do Cats and Rabbit Get Along?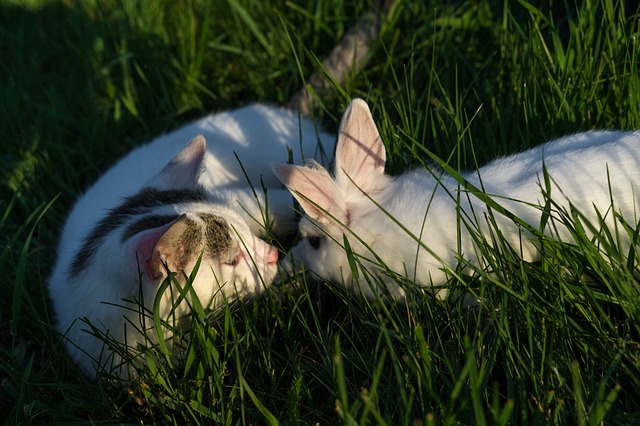 Yes, cats and rabbits can live in the same house. However, taking particular precautions is integral to ensure their safety and well-being.
Firstly, you should never leave them alone unsupervised as cats are natural predators and might turn on a rabbit in an instant.
Plus, it's vital to provide distinct spaces for each animal. Cats need their litter box, food/water dishes, and a place to sleep. Rabbits also need their area for litter, hay, water, and a hiding/sleeping place. This helps to avoid conflicts between the two animals.
The gradual introduction of cats and rabbits can minimize the potential risks. Supervised playtime with both animals can also be valuable, but it's critical to watch for signs of aggression or stress.
Let's review all valuable tips and tricks in this regard below.
How to Make Cats and Rabbits Live Together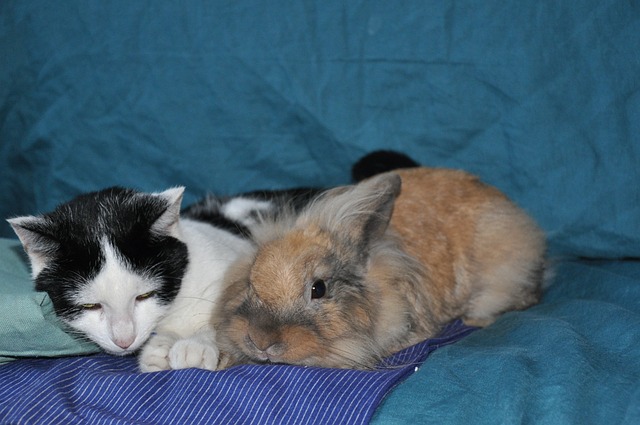 To make the two animals live together peacefully, there are several considerations you need to be aware of.
Let the animals become familiar with each other's scent before they interact. You can swap blankets/toys between them to help them get used to each other's smells.
Make sure they have their own assigned area to sleep, eat, and use the litter box to minimize potential conflicts.
Reward good behavior with treats and praise to motivate positive interactions between them.
Always supervise the interactions between them, and separate them if necessary to prevent harm or injury to either animal.
Some cats/rabbits may be more comfortable with each other. If your cat/rabbit shows signs of aggression, it's best to separate them.
Provide plenty of toys and activities to keep them entertained and prevent negative behaviors due to boredom or frustration.
Try to match their sizes as closely as possible. A larger rabbit is less likely to be attacked by a smaller cat.
Let the rabbit become confident in their surroundings before roaming freely as it helps it defend itself against a potential attack.
When the cat is around the rabbit, keep their paws on the ground. If the cat is on higher ground, the rabbit may interpret this as a threat.
Establish a routine and spend equal time with them to prevent jealousy and aggressive behavior.
Spaying or neutering them can reduce their territorial instincts and aggression toward each other.
How to Introduce a Rabbit to a Cat's House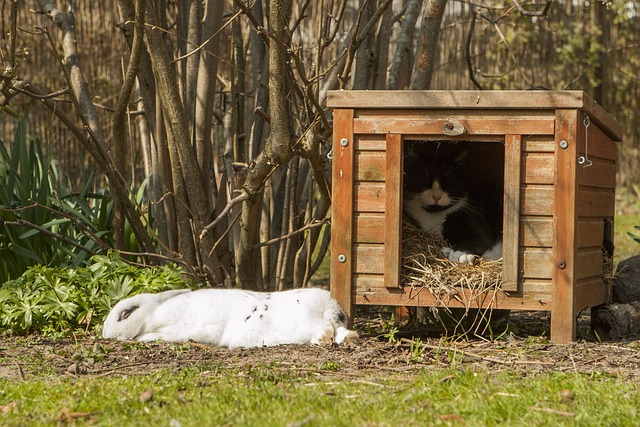 If you tend to bring a rabbit into a home with a cat, check to see if your cat is good with other animals. If not, your cat should be the only pet.
If you decide to proceed, set up a spacious hutch for the rabbit to stay in for the initial days to let the cat get used to their presence and smell. Supervise their interactions and fix any problematic behavior.
When they both show interest in each other, introduce them to playtime. Don't expect instantaneous bonding as just coexisting without conflict is a good start.
Then, slowly provide more freedom, but always supervise and separate them if there's any conflict. Remember that cats and rabbits are both territorial animals, so even if they're indifferent to each other, that's still a positive outcome.
How to Introduce a Kitten to a Rabbit's House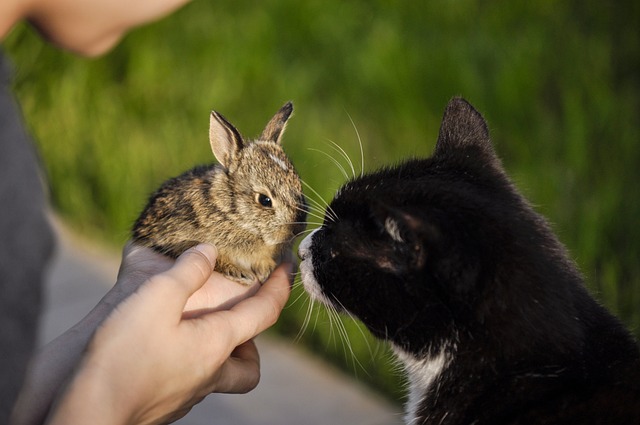 Be cautious when you introduce a kitten to a home with an existing bunny as the rabbit may be suspicious of the newcomer, even though kittens are sociable.
First, make the kitten comfortable in one room at a time before introducing them to the rabbit. Choose a neutral room or a location unfamiliar to the rabbit to minimize territorial conflicts.
Let the pets sniff and examine each other while supervising closely. If they show signs of aggression, separate them instantly. They may patiently grow to accept each other and even become friends.
How to Introduce an Adult Cat to a Rabbit's House
Older cats are more prone to having difficulties adapting to this situation, especially when their housemate is a rabbit. This is due to their established hunting instincts and reduced interest in playing.
Additionally, senior cats may struggle to adapt to changes in their living environment and may find it stressful to deal with a new and potentially challenging housemate.
Does a Cat Attack a Rabbit?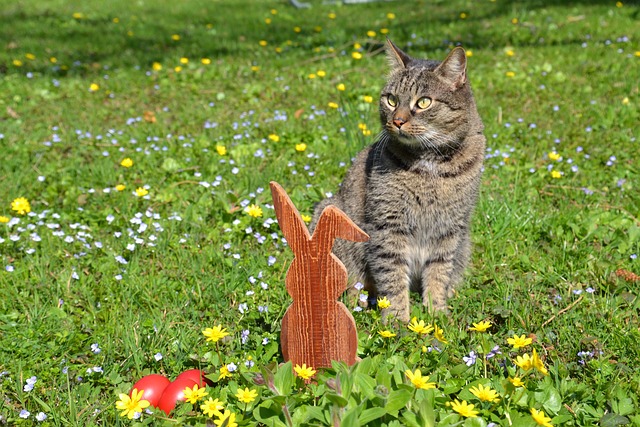 Cats might attack rabbits as they are natural enemies, and cats have powerful hunting instincts. Thus, it's important to prevent this by playing with your cat to have its instincts under control. 
Even if your cat and rabbit get along seemingly, don't let your guard down. If your cat starts to chase your rabbit, separate them fast as your rabbit may stand their ground or escape, activating your cat's hunting instincts.
Once your cat perceives your rabbit as prey, it won't stop chasing them. Even if your rabbit escapes successfully, it'll remain scared of your cat.
Does a Rabbit Attack a Cat?
Bunnies can be the attacker when it comes to cats, which can lead to serious troubles. When rabbits feel at home, they become territorial and mark their space like cats. This can lead to quarrels between the two animals.
While cats might intimidate bunnies, confident rabbits threaten them back. A rabbit might chase a cat to show dominance, biting their tail, or trying to mount them. This makes the cat fight back, leading to long-term fear or injury.
How to Keep Cats Away from Rabbits
Your cat may try to hunt your rabbit, especially if it's used to chasing wild bunnies. Make sure the hutch is protected with a roof and narrow bars, though the cat can still stress your rabbit from outside the hutch.
You can use cat-deterrent scents or let your rabbit exercise outside in a safe area for 2 to 4 hours while keeping your cat indoors.
Final Words
Cats and rabbits can become good friends, but some precautions should be taken to ensure their safety and well-being. The key points are to introduce them gradually, furnish separate spaces, and supervise their interactions.
While some cats and rabbits may get along well, it's vital to watch for signs of aggression or stress. With patience and care, you can create a balanced household for both pets.