When you adopt a rabbit you may notice that they have similar traits to dogs or cats. They are a lot smaller but still make great pets for you or your family. They are also a lot smarter than many people think.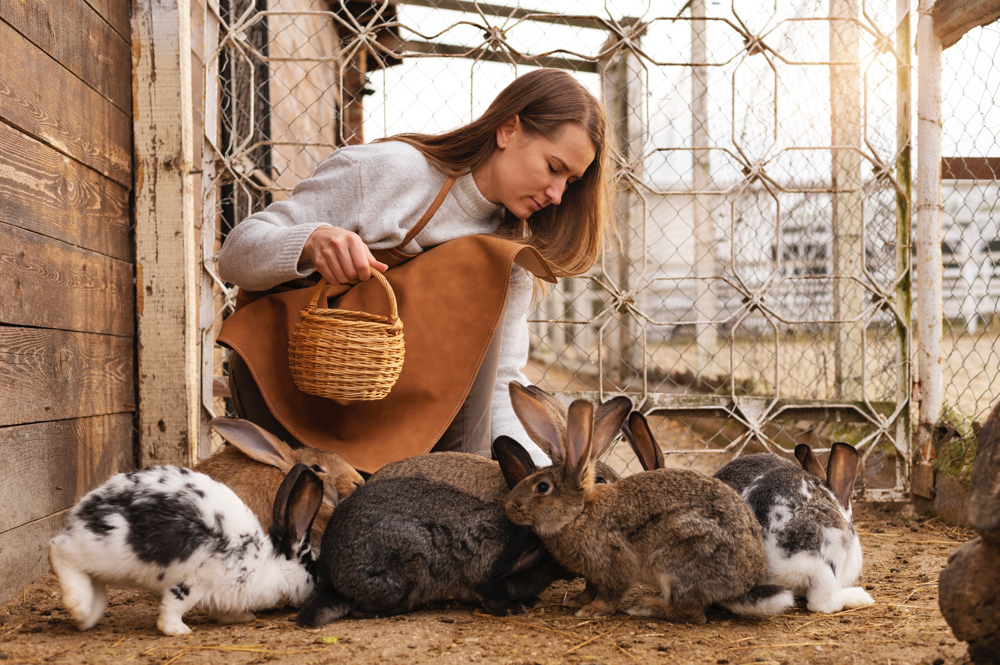 One rabbit fact that may surprise some people is that rabbits love to dig holes, especially in nature, but a pet rabbit will still do the same. While this may appear cute to you when they do it in your backyard, over time, it can be quite destructive. Here's why pet rabbits still dig holes, and what to do about it. 
Reasons Why Rabbits Love to Dig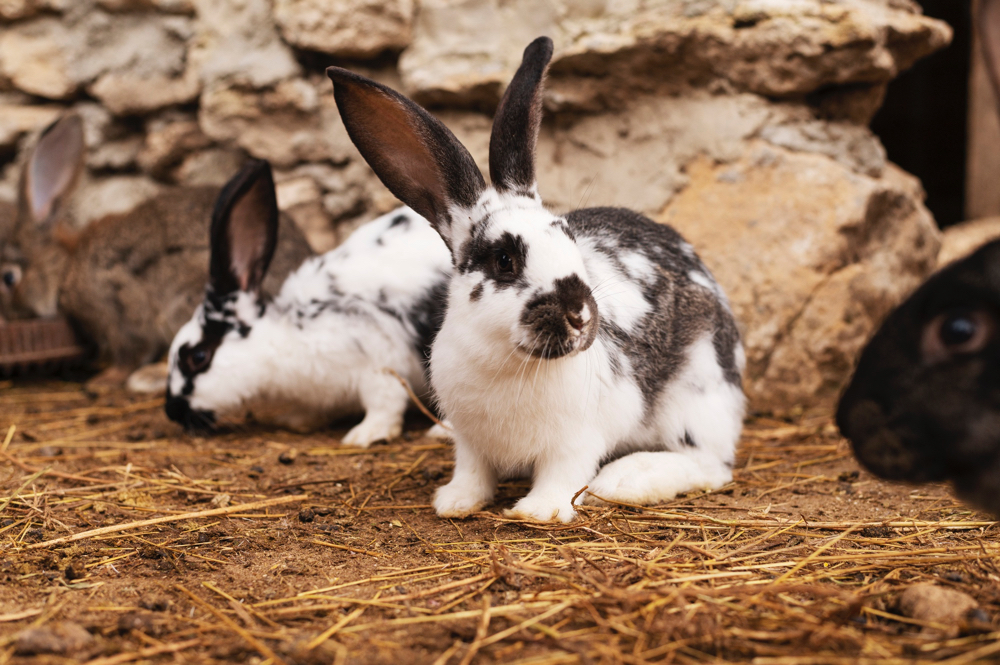 Just like chewing, digging is a normal behavior for a rabbit. There are many reasons for it. In the wild, a rabbit will dig a hole to have a safe place to hide from predators, so they can't be seen.
Once the predators are gone, the burrow will provide a comfy and soft place to sleep. A pregnant rabbit will also dig a burrow so they can birth their babies, and raise them safely. This digging activity also keeps rabbits busy, so it can be a form of entertainment as well. 
Should I Discourage Digging?
No, you should not. It would be like trying to stop a rabbit from chewing. If you don't like the behavior, then don't adopt a rabbit. But there are ways that it can be managed, so that your pet rabbit can still have an intriguing and fun living space. First, consider your rabbit's living space.
A hutch with mesh on the bottom can harm their feet. It should be a solid surface where you can place their pellets. They can dig down, but not get their feet stuck or scratched. Fill one corner of the hutch or cage with extra pellets. You can also provide other activities for your rabbit so they keep busy and forget to dig. 
How to Encourage Natural Digging?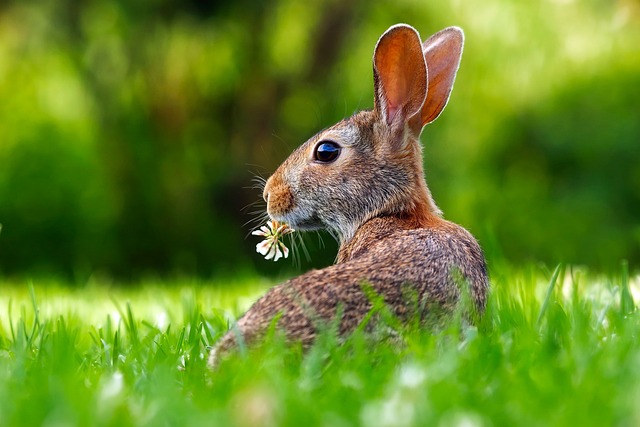 A cage or hutch with extra pellets in the corner is one idea, but there are other things you can do. If you have access to a backyard with green grass, take them outside for a play date. If you don't have fencing around your yard, you can set up a small enclosure for them. Do this in a spot where you don't care if the grass or garden gets messed up.
You can also provide a "digging box" for your rabbit. This can be a repurposed container, such as a box, plastic container, or a children's inflatable pool. Fill up the container with soil from the plant shop, or shredded paper (no ink on it), or child-friendly sand from the plant store too.
Your rabbit may be a bit confused at first. Why are they not allowed to dig into your living room carpet, but they can in this designated spot? To encourage them, sprinkle some of their most favorite foods around the digging box. This will clue your pet bunny in that this is their spot. They will hop in and be encouraged to dig as much as they like.
Provide Extra Bedding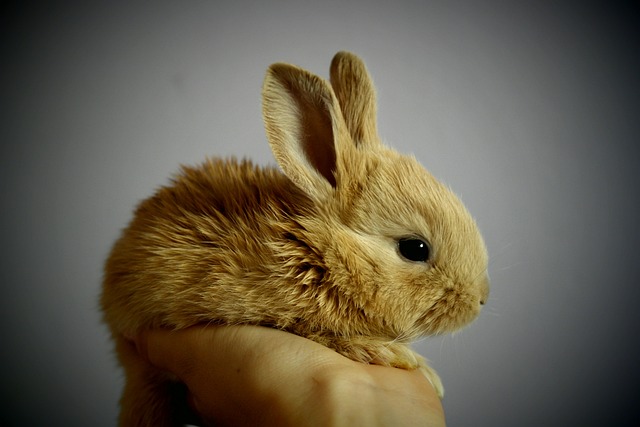 You may have seen videos of dogs or cats organizing their beds. Bunnies love to do this too! Provide an assortment of smaller towels (face cloths), blankets, bedding, and more, to them. They will push and pull this bedding around to organize it to their liking.
They may even chew on the bedding, as they normally enjoy doing. This organization of bedding is called "bunching". Check the bedding regularly. They may chew on it, but you don't want them ingesting large pieces or choking on the threads. 
Provide Bunny Tunnels or Mazes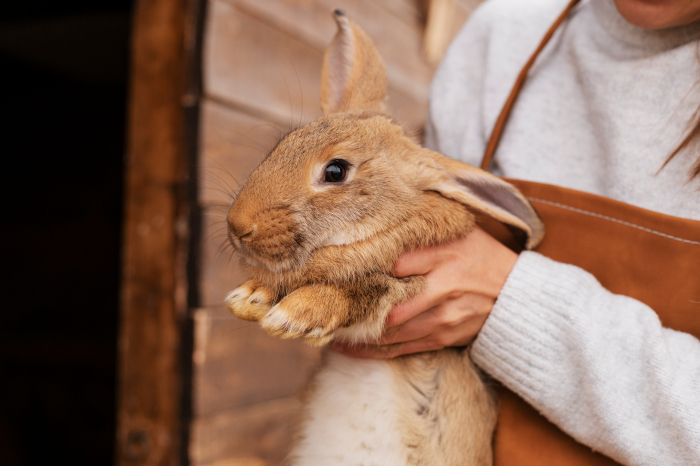 There are also other ways to stimulate your rabbit's mind. Providing ways to burrow or hide is one helpful way. You can do this by buying a small cat tunnel they can run through (or a rabbit one if you can find it), or provide cardboard boxes they can hide in.
You can join these together, and cut out holes to make a long rabbit tunnel, or even a maze. If you've just set something up, hide some of their favorite foods inside, so they can have fun investigating, and be encouraged to use their new bunny tunnel in the future. 
Spay & Neuter Your Rabbits
A rabbit that has been fixed will be happier and calmer. They'll be less likely to want to run away, or dig out of their outside enclosure, or even their indoor enclosure. This also prevents other behavioral problems in the future, just like how dogs and cats are much happier after being fixed. And you never know, you may want to adopt another rabbit in the future.
You'll still have to get the new rabbit fixed, but both will get along together much better once that's done. And you don't want to contribute to the unwanted pet population, who are euthanized at alarming rates in North America today, because there aren't enough good homes for the unwanted pets, or worse, being dumped outside to cope for themselves.
How Your Efforts Make Your Rabbit Happy
When you provide all of a rabbit's needs, they'll be much happier. An indoor rabbit may not have that dire need to hide away, but just like cats like to hide, a tunnel or cardboard maze will make your rabbit feel safe and secure.
Or, they'll just be happy to run around and play for a bit. Digging in dirt will make them happy too. Fulfilling all these natural needs will make your rabbit happy, and they'll be less destructive when inside your home. 
Some of a rabbit's needs are quite different than the needs of a dog or a cat. If you're new to rabbit ownership, you'll soon learn how to provide an interesting and stimulating environment for your pet rabbit, that also includes plenty of opportunities to dig and burrow.
Your pet rabbit will be happy and healthy, and more so than if you simply reprimanded them for that natural digging activity that they all love doing!