There are many different types of parasites that rabbits can get. You may be wondering how they can get these parasites when you keep them as happy and healthy as possible.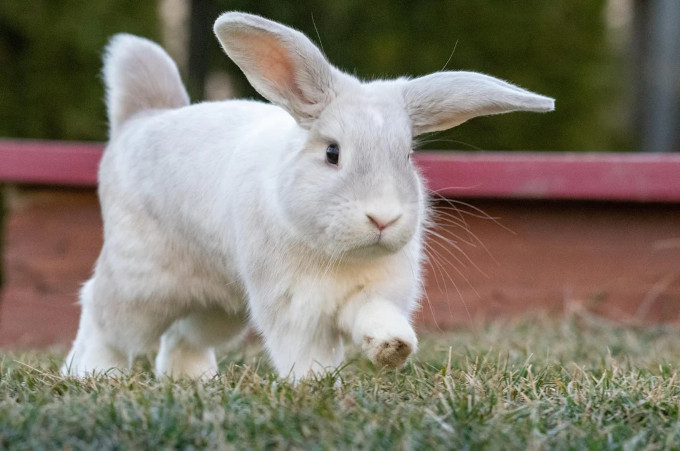 If you're new to pet ownership, it's also best to be aware of how they can get these parasites so you can prevent them in the future. There are also many different treatment plans to give rabbits, should they become infested with parasites in the future. 
What Kinds of Parasites Can My Pet Rabbit Get?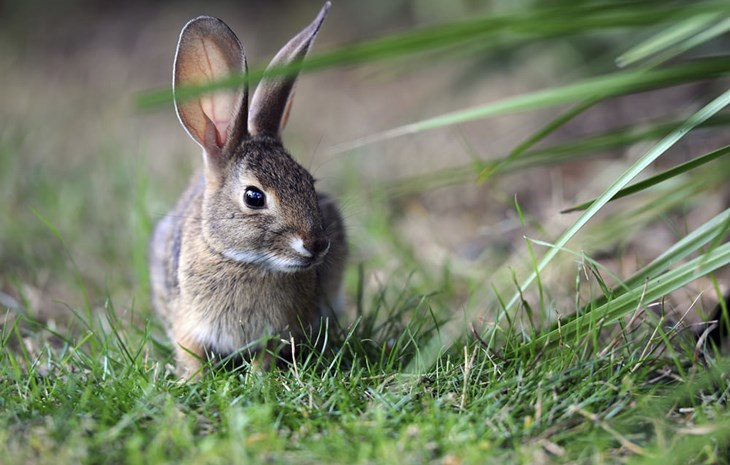 The parasites are the same types that other mammals, and even humans, can get. It can involve mites, fleas, worms, and larvae.
Ectoparasites
One of the most common types of parasites that a rabbit can get is called Cheyletiella. They are also called fur mites or walking dandruff. This is more easily spotted on darker furred bunnies. This type of parasite moves, so it can't be confused with skin dandruff or dried up skin flakes.
Ear mites are also another condition they can get. You can check for this by examining their ears. Their ears may have dark crusts in them, and they may be excessively scratching this location.
Flea Infestation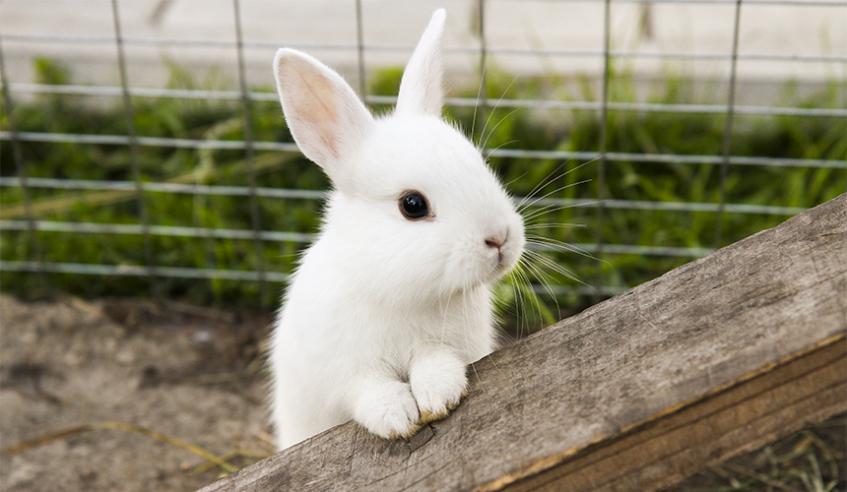 Just like your dog or cat may have fleas, a rabbit can also have the same. These can even be the same type, so it's important to treat all pets. However, do not treat all pets with the same medication, as this can be fatal. Ask your veterinarian for specific flea meds meant for rabbits, dogs, and cats, and give to them individually.
Fly Larvae
Flies can land on your rabbit and leave their eggs. These eggs can develop into larvae. There are two main types that infest the skin of your rabbit and can cause serious health issues. The first type is called Cuterebra.
These are very large, so should your rabbit be infested with them, you'll eventually see it as a large bump or swelling on the skin, with a round hole at the top. It's important to take your rabbit to the vet, because the main concern is that they can cause an anaphylactic (allergic) reaction in your rabbit that can lead to death. 
The other type of fly larvae that rabbits can commonly get are small maggots. This usually occurs when they have suffered from a skin wound or infection. This may occur if your rabbit has suffered an injury or is sick and cannot groom themselves properly. These maggots will slowly eat away at the rabbit's skin, and for this reason, need to be removed quickly.
In both instances, the rabbit must quickly be taken to the vet for treatment.
Rabbits can get both of these parasites from flies that live outside. It's best to keep your pet rabbits indoors, rather than in cold, wet, outdoor hutches like humans would do in the past. Outside rabbits can suffer from many parasitic infestations. They can be completely avoided by having your bunnies kept inside most of the time.
Serious Rabbit Parasites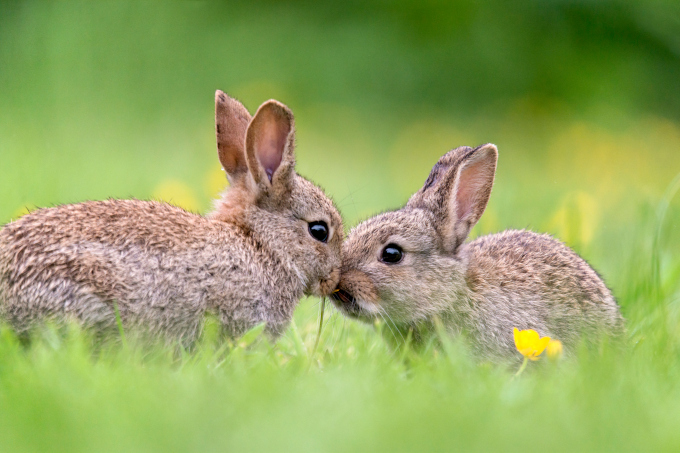 Mites, fleas, and worms can be easily treatable, but one of the more serious types of parasitic infections in rabbits can actually affect their brain and major organs of the body. This type is called E. Cuniculi. This condition is transferred from rabbit to rabbit. It occurs when an infested rabbit pees, and then the other rabbit orally consumes their urine. The parasite is passed in the rabbit's urine.
Symptoms can be hard to spot, and it can be too late if it does happen. The parasite can affect the nervous tissue of the rabbit, including the brain, spinal cord, and nerves.
You can spot some of the symptoms if your rabbit isn't holding their head steadily, it's tilted, their head is rolling or they can't hold it up. They may have rapid eye movements. They may lose control of their bladder or bowels. Cataracts and inflammation of the eyes can occur.
If rabbits are housed outside, they may also get a raccoon parasite called Baylisascaris. With both parasites, there is little that can be done to treat these conditions.
Bacterial Infections
Bacteria can cause ear infections in rabbits. This condition is easily treated with antibiotics. Some common ways to determine if they have one is if they are tilting their head a lot, or their ears are red and inflamed. Ear infections can be caused by different bacteria and aren't generally passed from pet to pet. 
Stomach & Intestinal Parasites
The most common intestinal parasite for rabbits is Coccidia. This can lead to weight loss and dehydration. There can be more serious difficulties too, that can lead to liver failure and tumours inside the bile duct.
How Do I Check for Parasites?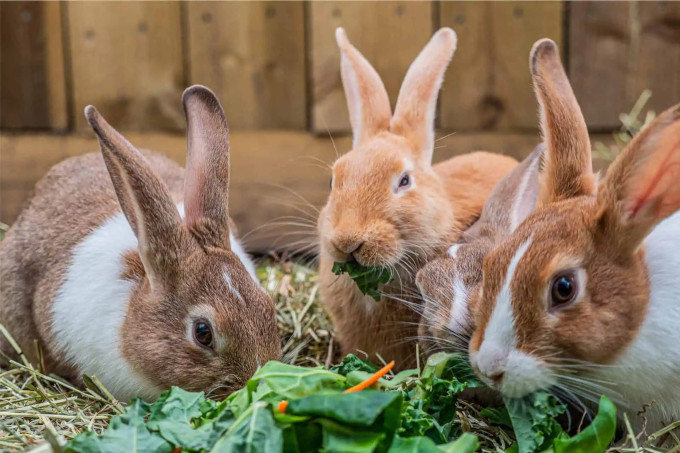 Some parasites are harmless to your rabbit once treatment starts. A few are hard to diagnose and can be deadly. It's important to adopt your rabbit from a professional animal rescue society that understands what parasites are, and that will only adopt out when your future pet is healthy. Unfortunately, rabbit breeders are in it for the profits and don't care if they send you home with a deathly ill bunny.
Do check your rabbit for health issues once a week. A yearly exam at the veterinary clinic will also help to quickly diagnose any parasitic infections, or other lingering health issues.
Rabbits can get parasites the same ways that they can get other types of health conditions, through other rabbits, and through other pets in the home or outdoors. Once you understand how rabbits can get these various parasitic conditions, you can then do your part in maintaining a clean and healthy home for them.
And you should also inspect your pet once a week, and fully clean and sterilize their habitat once a week, so they can can stay safe and healthy too. The extra effort will be worth it when you see your rabbits first thing in the morning and they are so happy and eager to see you!