Rabbits were found in the wild before they were domesticated to be house pets. You may even notice how cute bunnies at the pet stores look vastly different than most wild rabbits.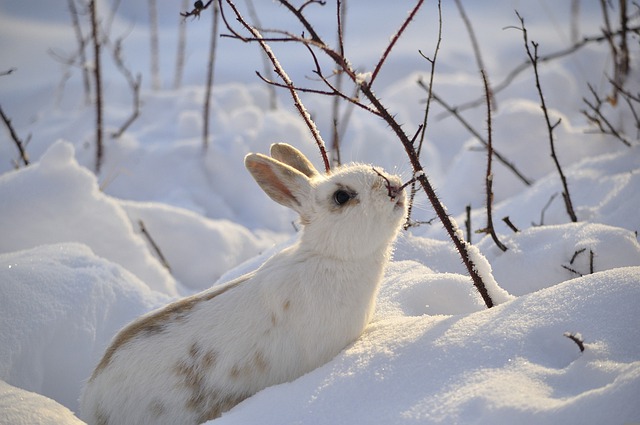 This is because humans have been breeding pet bunnies for centuries, just like dogs and cats. Now that we're heading into the fall months you may be wondering if your pet bunny needs a special diet for winter. 
What Would a Wild Rabbit Eat in the Winter?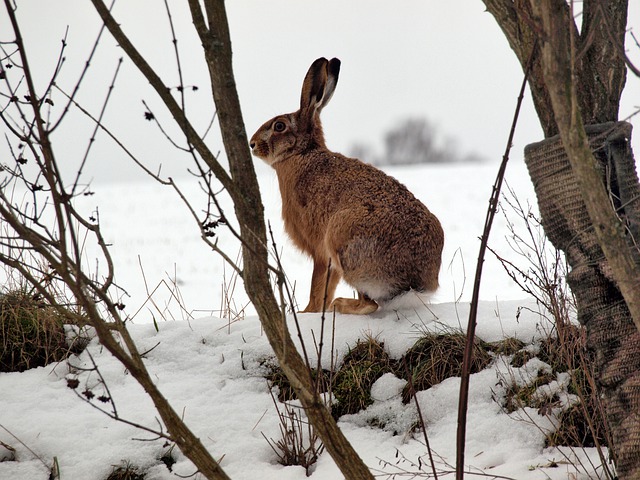 Most parts of North America get at least some snow in the winter. This makes you wonder what a wild rabbit may eat in the wild? Summer would provide plenty of food, but what would they forage for at winter time?
Whether a rabbit is indoors, or there is a wild rabbit outside, they need a diet that consists of plenty of fiber. This includes grasses, greens, and hay. In the winter, the grasses and greens can die off though, or be covered in snow. While your pet bunny is supplied all the food they could want, a wild rabbit doesn't have that privilege.
Instead, they eat whatever they can forage for. A wild rabbit will eat bark from trees, pine needles, sticks, and any other type of edible vegetation. You may be wondering if this is nutritious? Sadly, no it isn't, and the survival rates of wild rabbits are quite low in the winter in colder climates. 
So I Do Not Duplicate a Wild Rabbit's Winter Diet?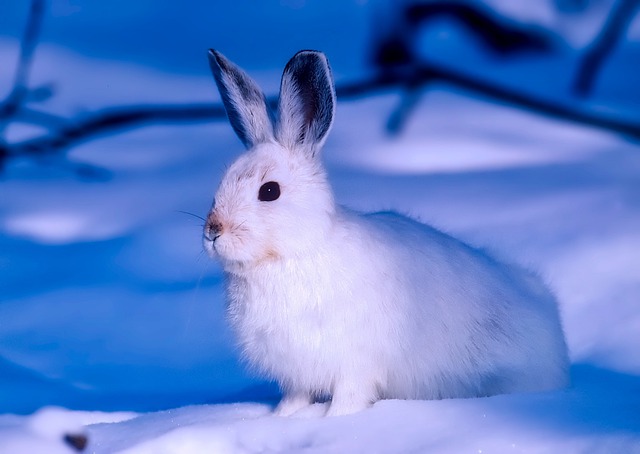 Absolutely not! You may be trying to copy how a pet rabbit eats in the wild, but for the most part, you shouldn't, beyond feeding them an omnivore diet. And the good news is that pet rabbits live so much longer than wild rabbits, as we're able to provide them healthy food, a safe environment away from predators, and lots of love too. 
What If I Have an Outdoor Rabbit Hutch?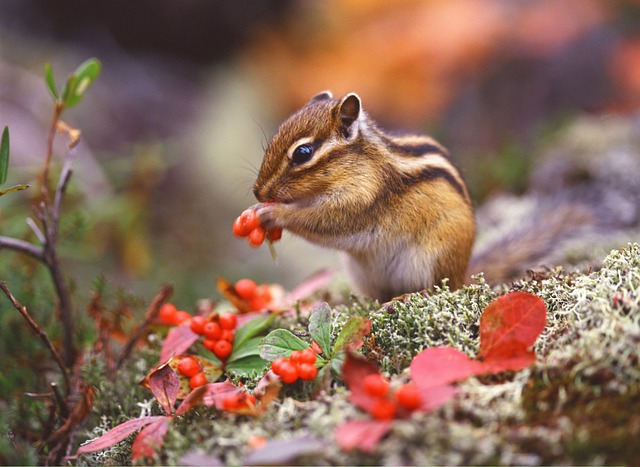 If you have outdoor rabbits, then they need to be carefully looed after. The hutches should be safe enough that they are free from predators, and that they are kept warm and dry from rain, snow, and wind.
The rabbits should have a large space where they can run into during the day time. This can be closed off at night. You shouldn't be contributing to more of the unwanted pet population, so if you have more than one, ensure they are spayed and neutered.
There should be some rabbit and human interaction so they get the love and care they need. You may consider bringing your rabbit indoors for the winter. Rabbits make great indoor pets, and generally keeping them outdoors all year round is not recommended today. But whether they are indoors and outdoors bunnies, they still need the same healthy diet year round. 
What Type of Diet Should My Pet Rabbit Get?
Your pet rabbit needs a diet that consists mostly of rabbit pellets that are made from hay. Some additional foods can supplement their diets, such as vegetables and berries. If your pet rabbit is indoors most of the time, you don't have to supplement their diet. If they're outdoors, then you can provide a small increase in the pellet food from November to March.
What If I Have a Nursing Rabbit Mom?
A nursing rabbit does have more nutritional needs. A mother rabbit providing milk to her baby will put extra caloric demands on her. You should increase her consumption of rabbit pellets, and include more leafy greens and vegetables in her diet. You should be providing a warm space for the rabbit family, as baby rabbits are more susceptible to the cold and often don't survive the winter.
Should There Be Any Differences Between Summer and Winter Pet Rabbit Diets?
No, basically they should not be getting a different diet depending on the time of year if your pet rabbit is a strictly indoors-only pet. It's only wild rabbits whose diet varies, and that's not up to them, that's what happens in nature.
If you do have outdoor rabbits in hutches, then yes, you should feed them their same diet, but just increase their intake, as the cold burns off fat and calories a lot faster. It's believed it can take up to three times more the calories in the winter than what they consume in the summer.
Best Foods for Rabbits in the Winter
No matter the time of year, a pet rabbit's major diet needs to include hay. This must be feeding hay, not just hay of any type. You'll buy the rabbit pellets that contain the special orchard hay, alfalfa hay, and meadow hay for your rabbit.
Feeding hay is greener and fresher than regular hay. It's also more nutritious for rabbits than other types. Most pet food stores should have rabbit pellets for sale. Rabbits of all types love their leafy greens. This includes spinach, arugula, and all types of lettuce.
You can add some other green vegetables too, such as broccoli. Rabbits love berries, but fresh ones may not be easily accessible in the winter, so you can give them small fruit treats occasionally. If there is some new food you want your rabbit to try, be certain to only give it in small amounts, just in case your rabbit's digestive system doesn't like it. 
It may seem confusing that wild rabbits and pet rabbits eat different diets, and that the wild rabbits may have a different summer and winter diet. It's important to understand the differences between wild and pet rabbits and their nutritional needs.
But keep in mind that with all of our scientific advances that we can keep our pets alive for much longer than if they lived in the wild. Providing your pet rabbit with a warm home, plenty of play time and love, and the proper nutritious diet will mean that they're not only happy, but that they will live into their senior years with you and your family!