Rabbit Adoption Listings in Illinois
Looking for a cute rabbit? Need help to place your rabbit? No problem. Contact us at rabbitslife@mail.com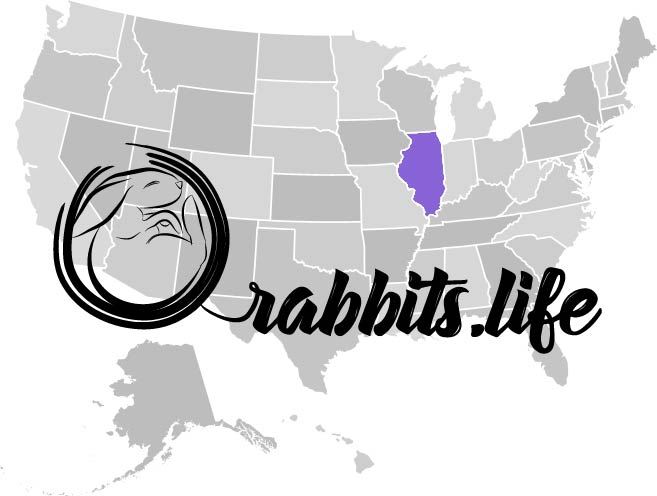 Hi, we are Alana and Andrina!


Alana and Andrina are a bonded pair. They must be adopted together in bonded pairs of even for a trio. They are somewhat shy bunnies, and are very sweet and playful. They are litter trained (excellent litter box habits) and neutered.. Preferred adopter should be experienced in rabbit care. Indoor housing only. Adoption fee $140 for a pair.
Phone: 630-842-5033
Email: info@hrschicago.org
Hi, my name is Amy!
I am already spayed and housetrained.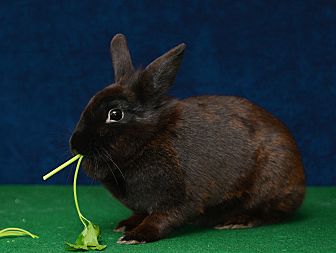 The rabbit adoption fee is $100 and benefits the rescued pets of Red Door Animal Shelter.
Breed: Satin Mix
Color: Black
Age: Young
Size: Standard
Sex: Female
Hair: Medium
Hi, my name is Kohlrabi!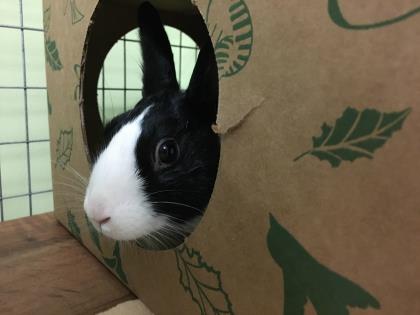 Breed: Dutch
Age: 5 months 27 days
Gender: Male
Size: Small
Color: Black/White
Spayed/Neutered: Yes
Housetrained: Yes
Intake Date: 6/21/2017
Adoption Price: $100.00
Tasty and good for you - that's Carrot and Kohlrabi! Nothing will be better for your health than spending your days cuddling and playing with these two 5 month old Dutch bunny brothers. Carrot and Kohlrabi came to ACL (with their three sisters) after they were the result of an accidental litter in their previous home. Carrot and Kohlrabi have been growing big and strong in a foster home, where we've learned a lot about their different personalities! Carrot is the outgoing boy - he may have been the runt of the litter, but he's definitely the boss! He has a ton of energy and feistiness, and his confident nature makes him a natural favorite. Kohlrabi is bigger but a bit more shy. He sometimes gets picked on by Carrot because he won't put up a fight! Kohlrabi enjoys being pet and playing with toys. Both Carrot and Kohlrabi are available for adoption either together or separately. They'll make great first bunnies for homes ready to learn about all the fun ways rabbits can enrich your life! Since these boys are still babies, they're at a great age to continue to socialize and learn how to be great additions to a family with kids of any age!
On www.dupageco.org you can meet Dumpling and other rabbits.
She is a cute mini Lop.
"Hi, I'm Dumpling and I'm available for you to fall in love with! I'm easy to love if I do say so myself. I'm sweet and playful. I love treats and I love getting pets. Did I mention that I love treats? Because I just want to make sure you heard that part. Anyway, I'm just sitting here all by myself waiting for you so if you could come meet me sometime soon, that would be great! Please visit www.dupageco.org/animalcontrol for more details or call 630-407-2800."
Mini Lop
Female
1 Year
Location: DCACC
Hi, my name is Sammie!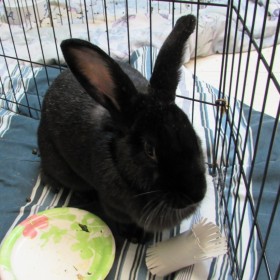 Birthdate: 3 years old
Sammie is a beautiful adult New Zealand bunny is need of a home.
Rabbits require a diet including timothy hay and daily greens, as well as daily exercise and of course love!
If a rabbit could be a good fit for you, please consider Sammie! She is spayed and microchipped.
Sammie weighs 9 pounds and has beautiful fur with silver streaks on her back.
We are unsure of her age (3 is just a guess) but we do know she is full grown.
The Quad City Animal Welfare Center's Adoption & Education Center is located at 724 2nd Avenue W. in Milan, IL.
We are open Monday-Saturday noon to 5 p.m., extended hours until 6 p.m. on Wednesdays, and closed on Sundays.
QCAWC has been saving animals one life at a time since 1977!
Hi, my name is Cricket!


Age: ~ 1 year
Breed: American Rabbit
Gender: Male
Other rescuers from Illinois:
Red Door Animal Shelter: 2410 W Lunt Ave, Chicago, IL 60645, USA
+1 773-764-2242
Animal Education & Rescue
Libertyville, IL, USA
+1 847-816-0831
Animal Care League
1013 Garfield St, Oak Park, IL 60304, USA
+1 708-848-8155
DuPage County Animal Control
120 N County Farm Rd, Wheaton, IL 60187, USA
+1 630-407-2800
ALIVE Rescue
2227 W Belmont Ave, Chicago, IL 60618, USA
+1 773-913-8100
Quad City Animal Welfare Center
724 2nd Ave W, Milan, IL 61264, USA
+1 309-787-6830
Humane Society of Central Illinois
423 N Kays Dr, Normal, IL 61761, USA
+1 309-451-1000