Rabbit Adoption Listings in Kentucky
Looking for a cute rabbit? Need help to place your rabbit? No problem. Contact us at rabbitslife@mail.com
Landie and Panya can be adopted through HARVEY'S HOUSE RABBIT RESCUE & SANCTUARY.
The adoption fee is $65 for a single rabbit and $110 for a bonded pair. The adoption process consists of a phone interview, a visit to meet the rabbit you are interested in, a vet reference and a home check. Please see our website for the adoption questionnaire, which is the first step in the process: www.harveyshouse.org
(502) 439-4884
P.O. Box 221302
Louisville, KY 40252
mary@harveyshouse.org
Hi, my name is Landie!
Location: Louisville, KY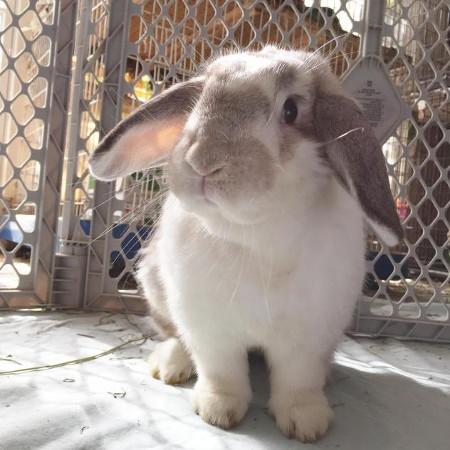 Lop Eared • Adult • Male • Medium
House trained • Spayed/Neutered • Primary Color(s): Cream
Landie is a sweet and friendly young rabbit and absolutely adorable. His favorite activity is chewing up cardboard and newspaper!
Landie is one of Flower's sons and was born into rescue after his mama came to Harvey's House during an emergency intake of 33 rabbits who were seized by authorities in Scott County, IN, for neglect and abuse and eventually released to rescue by the court.
Hi, my name is Panya!
Location: Louisville, KY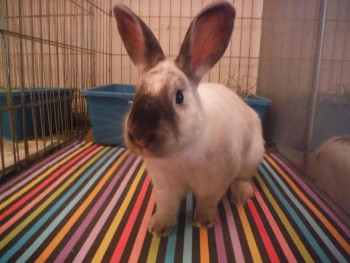 American • Adult • Male • Large
House trained • Spayed/Neutered • Primary Color(s): Blue / Gray • Secondary Color(s): Black • Coat Length: Short
Harvey's House foster rabbit Cleo gave birth shortly after intake to a litter of beautiful kits. Now that they are grown up and have been spayed/neutered, they are ready to find forever homes of their own.
This is Panya, he was given the Egyptian name for mouse because he was so small and all gray when he was born. He is the "old soul" of the kits, and seems to already have a more mature and serene attitude... a very gentle bunny.
Hi, my name is Jessica Rabbit!
Location: Frankfort, KY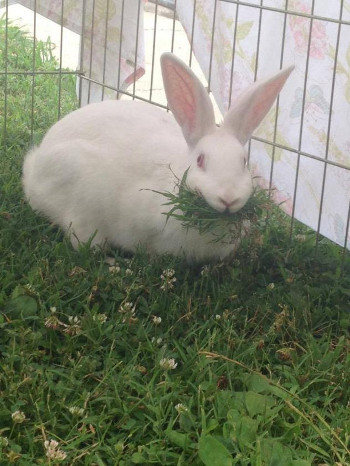 New Zealand • Adult • Female • Medium
$15 ADOPTION FEE - includes spay/neuter!
The Franklin County Humane Society recently took in several animals that were confiscated from a local pet store by the Sheriff's Department. The animals have all been released by the authorities. Most of the animals have been adopted by their foster families. However, we still have some rabbits that are available for adoption.
Due to limited staffing, we are not always able to respond to email inquiries. If interested in adopting one of our animals, please visit or contact the office at 502-875-7297 during our business hours. We are open Tuesday-Saturday 12pm-5pm and Sunday 12pm-4pm. We are closed Monday.
FRANKLIN COUNTY HUMANE SOCIETY
502-875-7297
1041 Kentucky Ave
Frankfort, KY 40601
contact.fchsky@gmail.com
Hi, my name is Max!
Location: Lexington, KY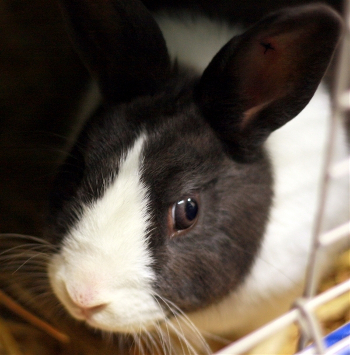 Dutch • Adult • Male • Medium
Spayed/Neutered • Current on vaccinations
LEXINGTON HUMANE SOCIETY
859.233.0044 x223
1600 Old Frankfort Pike
Lexington, KY 40504
lhsinfo@lexingtonhumanesociety.org
Best shelters and rescuers in Indiana:
HARVEY'S HOUSE RABBIT RESCUE & SANCTUARY: mary@harveyshouse.org
FRANKLIN COUNTY HUMANE SOCIETY: contact.fchsky@gmail.com
LEXINGTON HUMANE SOCIETY: lhsinfo@lexingtonhumanesociety.org